LED Interior Lights
Created by Fredrik Andersen - Wednesday, March 5 2014, 19:33:07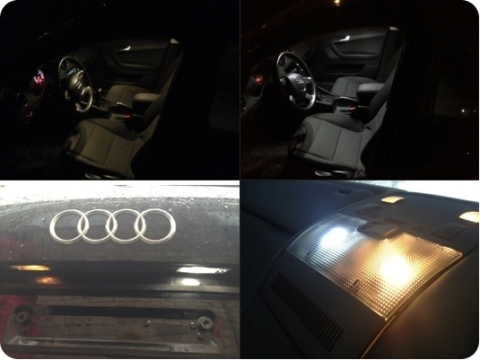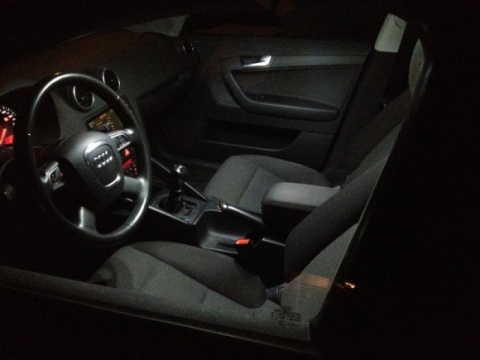 This retrofit fits the following models:
Audi A3 8P Sportback (2003 - 2013)
Audi A3 8P Hatchback (2004 - 2013)
Introduction
I figured out that it was time to replace the yellow interior lights with some nice white LED's.
It gives a much better light and it seems newer than the old yellow lights. My betther half unfortunately liked the yellow lights better, but then I am glad that it is my car :-)
Time
30-60 minutes
It really was easy to replace the LED's and personally I think most people are able to do this mod themselves. I would however recommend the correct tools, (see under "other" at the top bar.)
Installation & Guide
No coding is required
1. Purchase the LED Bulb Kit
2. Follow the instructions from the video under "Guide".
Here is a
picture guide for the Audi A4 B7
It is however the same as for A3.
Part numbers + Price
| Description | Price | Links |
| --- | --- | --- |
| LED Bulb Kit + shipping | 52 € | AutoLED |
Det online shop where I purchased the LED's was from Denmark, had a good price and replied to all of my emails quickly. Most buyers from Trustpilot was really satisfied with both the product, service and quality. I received the bulbs one day after they were ordered.
LED Bulb Kit
Interior Lights front
2x Festoon bulb, SMD, 6LED, 41mm
2x BA9S, SMD, 4LED
Interior Lights rear
2x BA9S, SMD, 4LED
Glove Box
1x W5W bulb, SMD, 2LED, Can-Bus
Boot
1x W5W bulb, SMD, 2LED, Can-Bus
Sidelights
(I did not order these, but they were included anyways)
2x W5W pære, SMD, 2LED, Can-Bus
License Plate Lights
2x Festoon bulb, SMD, 36mm, Can-Bus
Note: Please see my page about License Plate LED's.